Projects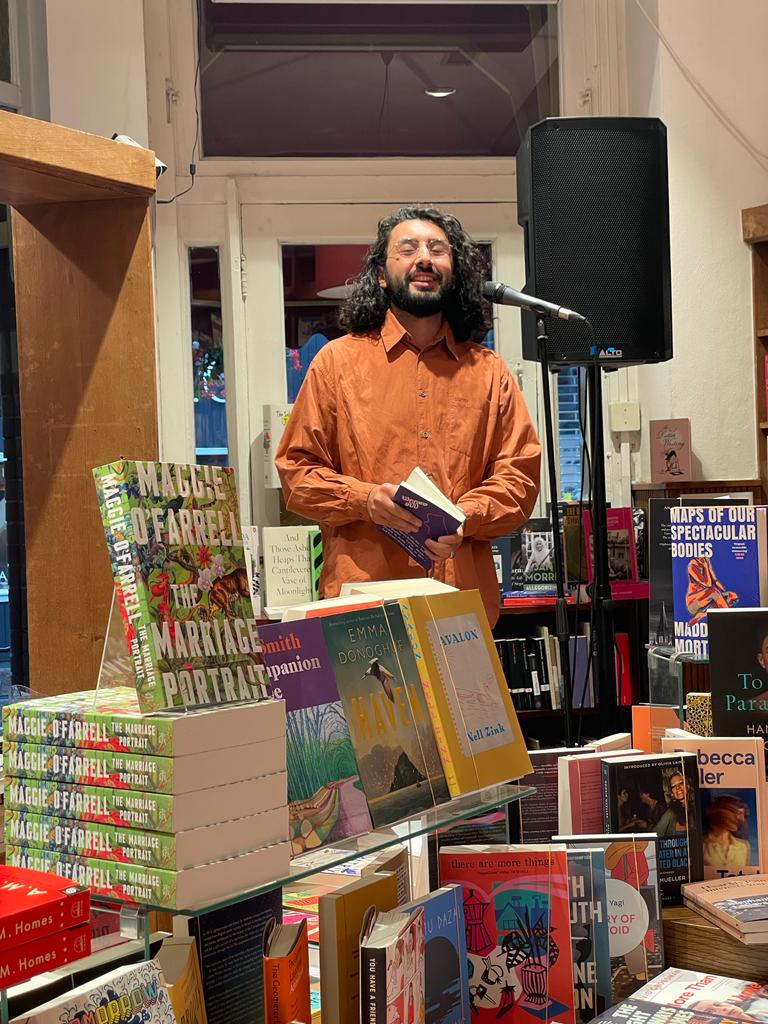 Woord 900 Art Resedincy
International Literature Festival Utrecht (ILFU) and Mooie Woorden join forces for WOORD 900. In 4 months all 10 writers wrote texts about the 10 neighborhoods of Utrecht, around the theme City without walls.
All texts were gathered and published in one book, here you can read more about
Woord 90
Al-Balad Art Resedincy
Jeddah, Saudi Arabia
Organised by Saudi Arabia's Ministry of Culture, 'Art Residency | Albalad' was a residency programme in the vibrant, historical district of Jeddah, Saudi Arabia.

While in Jeddah, Al Jaber worked on a text about the city and memory, his personal memory and the human memory in its collective sense. Through this work, Al Jaber tries to understand a painful past so much so that he sometimes loses sense of time and place. The text stands as the author's symbolic attempt to return to the South.

In collaboration with Saudi visual artist Nahla Khogeer, Bakr worked on an installation that respond to the text, and used it as a stage to recite the poem in.
The main idea of the work is inspired by a line in the poem: It is the memories that hit my head with a rusty chisel.


---
Laten we hard praten en veel lachen
In collaboration with Hillie De Rooij
'Laten we hard praten en veel lachen
– 'فلنرفع أصواتنا عالياً ونقهقه ' is a symbiosis of poetry and photography. Together they tell the story about living in between the values of home and the western society. It is a collaboration between the Syrian poet Bakr al Jaber and Hillie de Rooij. By focusing on short stories and quick flashes 'Laten we hard praten en veel lachen' is trying to turn something personal into something general that everyone can connect with. Over time the project has culminated in a traveling exhibition, performances and a publication.
---

Syrië, een roep om vrijheid en rechtvaardigheid
In collaboration with PAX

Writing a text about how I perceive Syria in the Future. The poem was recited in a special event capturing the 10's anniversary of the Syrian revolution.




---

Serious GameIn collaboration with Critical Mass

Writing short poems that serve as an introduction for 15 different characters in an educational game explaining the Syrian story. All poems were written in Arabic and translated to Dutch by Baban Karkuki.


---
BAK Fellowship
In collaboration with BAK,
basis voor actuele kunst
Writing a poem reflecting on 12 different stories that have been written by the participants of
BAK 2020 fellowship
.
---
Angstfabriek
In collaboration with Critical Mass

Writing a text about fear, for a social/theatric experiment. Text written in Arabic and Translated to Dutch by Baban Karkuki.





---
Stichting Vluchteling
In collaboration with Stichting Vluchteling

Performing a poem I wrote about Damascus during an interview in light of the 10th anniversary for the Syrian revolution.
During the interview I reflected on my relationship with poetry and Syria.




---
---